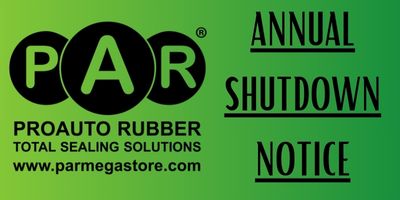 PRO AUTO RUBBER ANNUAL SHUTDOWN NOTICE - 2023
ANNUAL SHUTDOWN NOTICE
Dear Valued Customers,
Firstly, we at Pro Auto Rubber would like to thank you for your loyal, continuous support
throughout the year.
As you know, the holiday season and Christmas is drawing closer and this letter is to inform you
about our annual shutdown dates.
The last day for orders placements and for delivery to still take place this year will be on the 30th
of November 2023.
The cut- off date for new product developments is the 27th of October 2023.
The last day for deliveries will be the 15th of December and the factory will also be closing on
this day.
The online store will be open for orders, but please note that no shipping arrangements will
occur over public holidays. Please expect a day or two delay around Christmas.
Our shop will be open; however, the operating hours will be advised closer to the date. The shop
will be closed on public holidays.
Please ensure to place orders on-time to avoid any delays. All orders placed after these dates
will only be delivered in the new year.
For any further queries please do not hesitate to contact us.
We wish you a safe & happy holiday season and a fantastic new year.
Looking forward to doing business with you in 2024!
---
Older Post
Race Report 23 Sept 2023
Newer Post
Race Report - Nov 4th