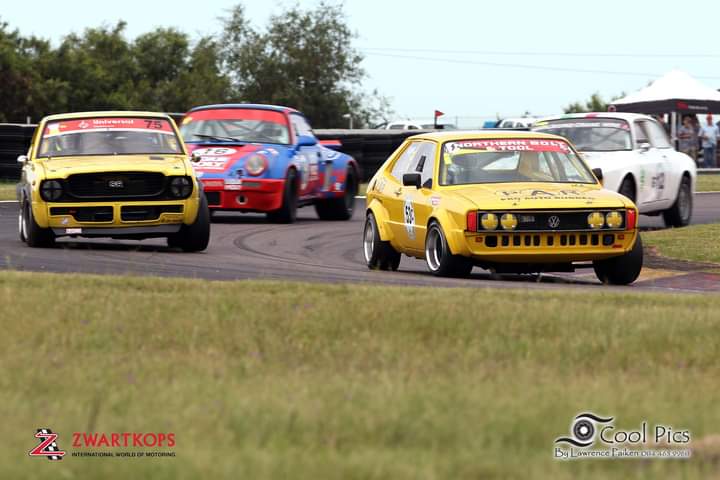 Race Report - Passion for Speed @ Zwartkops Raceway
Race Report - Passion for Speed @ Zwartkops Raceway
*Written by Andre Dannhauser*
What a weekend!
We got to the track on Friday afternoon, and headed straight into qualifying. This was the first time I was back in this car in several months, so I took it relatively easy to see how the rebuilt engine was holding up. Eventually the traffic eased, and I managed to set a half decent lap time placing me in 5th class. 
Saturday morning saw us starting race 1 bright and early. The racing was quite hectic in the opening laps, but by lap 3, I was in an excellent battle with Stuart Armstrong in his Mk2 Escort. We traded positions several times, and at the end of the race, Stuart finished ahead of me, but I was very to take 5th position. 
During the break between races, we made some small changes on the car which included some fresh rubber. On the warmup lap, I could already feel the positive changes - the handling was crisp, and I knew the lap times would improve. At the start I immediately gained one position, and once things settled down a tad, I had Charl Smalberger filling my mirrors with his Alfa GTV. It was a fantastic battle, with Charl testing my defensive tactics constantly. I managed to stay ahead of him and crossed the line in 4th position with a massive grin on my face.
Big thanks to the folks at ProAuto Rubber for their continued support, as well as the superb 4J's Auto team, for the work they put in on the car.
See you all at the one at Red Star! (March 5th)
---
Older Post
National Rubber Ducky Day
Newer Post
Race Report - Stuart Konig